View Turkey From Here
COMING SOON!
Visit Sun Soaked & Historic Turkey. Variety Of Tours & Airlines & Packages Online.

KAS

This picture shows some of the boats that act as lifelines for the citizens of KAS. I know two women in KAS. They are operating a bed and breakfast unit. But, I lost my connection with them. Whenever I have that info, I will let you know!

THE SLEEPY VILLAGE OF OLD...
"By day, Kas remains the sleepy village of old. By night, it is transformed. As the locals sit, talk and watch the world go by from the harbour wall, the restaurants, some on rooftops overlooking the sea, serve tempting food. The shops are trading post midnight".

Glimpses of KAS
"The busy harbour is lined with restaurants, and the ancient stone sarcophagus tucked in a quiet backstreet is both a delightful discovery and a reminder of Kas's rich history."
LOOK OVER THE CITY!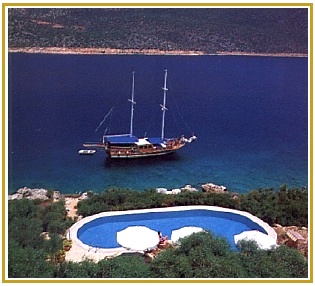 You can look over the sea to the many little islets and the large island of Meis Adasi, or Costellarizo, which belongs to Greece and is worth a boat ride to visit. The view brings to mind Jason and his Argonauts, the wily Odysseus seeking Ithaca and home after the Trojan war, an angry Poseidon rising from the foam -- it's a classical view, no doubt about it!